Stained glass design, decorative art glass and decorative mirror, are popularly used to enhance the aesthetic character of a house such as the main entrance, large expanse of window glass panels, foyer. Other interior design applications popularly considered are dividers, privacy screens, decorative ceiling and wall panels, and shower enclosure.
​
At SGO Malaysia we have the creative capabilities to transform your dream home into works of arts and architectural signatures, all customized to your exact personal requirements as tailored to your projects!


SGO Malaysia introduces you to a unique 3-D printing technique developed in-house to produce breathtaking decor pieces favorite to your home interiors, commercial showpieces and anything imaginable.

We are able to provide you the option to have almost anything digitally printed onto any substrate such as glass, acrylic, wood panel, plaster board, stones and tile wares, aluminium or metal foils etc.
---
Customization is what our clients associate us with. Design art piece that are seen by millions and individual masterpiece that portray unique signature of craftsmanship are what our workshop is good at doing.
---
With UV Printing technology, we aim to push the boundaries of imagination and explore the possibilities – if we haven't printed on something before, it certainly doesn't mean that we wouldn't want to and we'd be very happy to give it a try!
---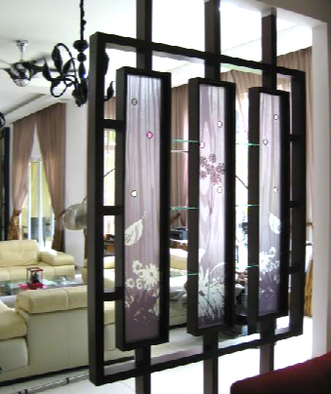 Hall divider complete with decorative wooden frame and designer glass is our home interior solutions we provide to homeowners who have challenges coordinating such project due to time or hassles of managing different sub-contractors for such task.

At SGO, we are able to provide a total solutions to help our clients enjoy the charm and beauty of their homes without the stress.

From the main entrance to the living and to the dining hall, and to the bedroom and bathrooms, with our 25 years backing, we have the knowledge and skill to provide affordable solutions to your home interior renovation needs.


---